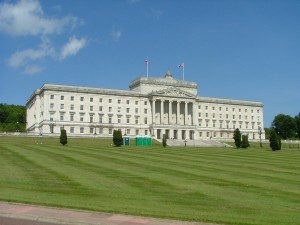 Northern Ireland Assembly, Monday 29 January 2008
Mr B Wilson: I welcome the opportunity to give the Green Party's views on the Budget.
The Budget, as a whole, is not bad, given the financial restrictions that the Executive placed on themselves. I welcome the fact that some of the criticisms that were made in the Assembly have been taken into account by the Minister of Finance and Personnel. I agree with his emphasis on entrepreneurship, economic development and increasing skills. Those are essential for the future of our economy. However, there are major issues that have been ignored by the Budget, and I, therefore, intend to oppose it.
Some Members have suggested that it is wrong to criticise the Executive, and that anyone who does so is being negative and trying to destabilise devolved Government. I do not subscribe to that view. I believe that our most important role as MLAs is to scrutinise all Executive decisions and to highlight those with which we disagree. Neither the Executive nor this Budget are above criticism. In addition to the failure of the Budget to take a shared future into account, it gets no marks for failing to address environmental issues, as Mr Gardiner has pointed out.
The Executive claim to be concerned about climate change, but the policies that they will implement will have a detrimental impact on the environment. They claim to be green, and to support sustainability, but there is nothing in the Budget to substantiate those claims. In fact, all the evidence is to the contrary — particularly with the abolition of the Reconnect grants to support small, renewable energy systems, and the reduction of the percentage of the Department for Regional Development's budget for public transport. That, together with the Minister of Finance and Personnel's recent decision to change building regulations to state that the inclusion of renewables in new buildings is no longer mandatory, is a total negation of the Executive's claim to support sustainability.
The decision to abolish the Reconnect grants, which were first introduced by Peter Hain, and the change in the building regulations sound the death knell for many small businesses inNorthern Ireland.
Over the past two years, the Department of Enterprise, Trade and Investment (DETI) has encouraged firms to develop skills in the installation of new renewable-energy systems. Their staff were encouraged to take courses at the RenewableEnergyInstallerAcademy, funded by DETI, and more than 800 installers completed those courses. An industry based on the new technology was evolving; students were developing skills that were increasingly in demand, North and South. However, that developing industry depended on the demand for microgeneration systems. The end of Reconnect grants and the Finance Minister's decision on building regula­tions have destroyed that demand, and the installers, rightly, feel betrayed.
Recently, I attended a meeting in Downpatrick, at which the installers expressed great anger at those decisions. They argued that they had been let down by the Government and felt that they had wasted time and money in acquiring those skills only to find that there was no demand for them. Some of the installers even stated that they would be forced out of business if Reconnect grants or similar support are not introduced immediately; others said that they would have to seek work in the Republic, where such grants are available and extremely popular.
The Minister of Finance and Personnel's decision runs contrary to his claim to grow our indigenous private sector. Northern Ireland is losing small businesses that could develop into much larger ones. It is a betrayal of everyone involved in the scheme. I appeal to the Minister to find some way of supporting the installers. We cannot afford to lose a large number of small businesses that are at the cutting edge of technology.
That decision is at best short-sighted, particularly in the light of last week's proposals by the European Commission, which will increase targets for the use of renewable energy. The Irish Government recently increased grants for microgeneration systems, and local authorities in GB are strengthening building regulations to require greater energy efficiency in new buildings. While others promote renewable energy, the Executive are discouraging the uptake of renewable systems.
My other concern relates to the Health Service. As a former member of the Eastern Health and Social Services Board, I was concerned about the allocation for hospital services in the draft Budget. I welcome the extra £10 million, but it falls considerably short of what is needed, according to the Bamford Review.
As I pointed out in the debate on the draft Budget, an increase in the health budget of 2·6% is the lowest for more than 10 years. That percentage increase is equivalent to a freezing of the health budget when one considers demographic pressures and that Health Service inflation is higher than ordinary inflation. Compared to an increase of 4% in real terms inEngland, a freeze is unacceptable, particularly when one considers the length of trolley waits inNorthern Irelandand other problems that are considerably worse than inEngland.
The differential in expenditure per head between Northern Ireland and England has reduced significantly in recent years. A recent study showed that, taking into account age profile, deprivation levels and market forces, the Health Service in Northern Ireland requires 10% more resources per head than inEnglanddue to its higher need. The present differential is about 4%, and the proposals for 2008-09 will erode the differential completely.
The additional money in the revised Budget, now agreed for the comprehensive spending review (CSR) period, is welcome. However, according to Professor Appleby it falls far short of what is needed — a point that he made in his report to the Department of Finance and Personnel in 2005 and which he repeated in his evidence to the Committee for Health, Social Services and Public Safety.
The latest increase raises our real-terms health budget by less than 2%, compared to the previous 1·1% — and is still a long way short ofEngland's new money of 3·7% over the next three years. Efficiency and productivity improvements of 3% per annum have already been factored in, and there is simply no scope for achieving further savings except through closing services and hospitals.
The revised Budget sets out a wish list of additional services. Last week, Members were informed about all the extra services that were going to be provided, but there was no indication of where the resources for any of those programmes would be coming from. The wish list is totally unrealistic.
As a member of the Eastern Health and Social Services Board, I recall that we had great difficulty in achieving efficiency savings of 1%. Therefore, it is over-optimistic to assume that efficiency savings of 3% are achievable. Many Members have said that such savings can be made, but they have not told us what those savings would mean in real terms, or what is going to happen. Given that the NHS is labour intensive, it will mean job losses; in fact, thousands of job losses — and it will be difficult to explain to overworked nurses and overworked doctors, patients, and all those who are on waiting lists why we are getting rid of a lot of staff.
Much of the savings and reorganisations that are supposed to pay for the new services are already being made in the present financial year, by reducing the number of health trusts from 18 to five. Therefore, where will the Minister of Health, Social Services and Public Safety find the money to bringNorthern Ireland into line with access targets and waiting times in England?
Professor Appleby showed that there is a need for 7% higher spending on health inNorthern Ireland, based on need, if we are to enjoy similar standards of care as those inEngland. Yet, last week, he identified a £500 million shortfall in health spending over the CSR period. Therefore, not only are we going to have lower standards of care, the gap between entitlements and expectations in Northern Ireland compared to those in England will continue to widen. Access targets and waiting times here will simply not match English levels in the foreseeable future.